Getting food onto the tables that need it most
SMD student feeds the community
Getting food onto the tables that need it most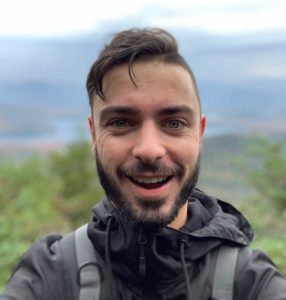 Mike Sportiello is third-year PhD student at the School of Medicine and Dentistry. He's studying immunology and how certain cells fight influenza infection. This is the kind of research that could lead to the construction of an effective vaccine. Sportiello is also interested in infectious diseases, poverty, and community health—and the connections among them all.
Before the pandemic, Sportiello would spend his days running experiments, researching influenza strands, and learning more about disease processes and the immune system. Today, he's doing as much work as he can remotely, and he's helping out in the community, putting food onto the tables that need it most.
Sportiello's doing this through several groups, including the COVID-19 Food Relief Team (RocMutualAid.com). In just one week, he says the team fed 314 people, and that 165 of them were children. Volunteers like him are shopping, organizing, and then delivering the food to people's homes.
"COVID-19 exacerbates and exposes an already all-too-serious problem here in the city of Rochester," he says. "And, while our food relief team and others are helping underserved families put food on their plates right now, we—as an overall society—need to find truly sustainable solutions for them."
Kristine Thompson, April 2020