Setting a Stage for Creativity
Setting a Stage for Creativity
The performing arts have always taken center stage at the University of Rochester, playing a fundamental role in the student experience.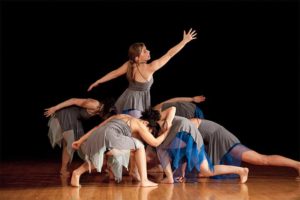 Music, theater, dance, and movement are catalysts for creative expression, leadership, and teamwork. Recognizing this, the University will open the doors to an inspiring new space on the River Campus in 2021 thanks to generous donors Thomas Sloan '65, '67 (MS) and Linda Sloan '67.
The Sloan Performing Arts Center will foster and celebrate creativity, enrich the overall student experience, and feed a lifelong passion for the arts. This 29,000-square-foot space will house the 200-seat Ed and Andy Smith Theater, a café, scene shop, dressing rooms, costume shop, and green room.
State-of-the-art facilities like this help attract and retain students—many of whom come to the University to pursue creative passions while achieving their academic goals. Students engage and benefit from the performing arts in many ways, too—onstage, backstage, and as audience members.
"Through a great deal of exposure to theater and other art forms over many years, I have come to appreciate how the performing arts inspire us, help us find our humanity, and broaden our views in many different ways."
—University Trustee Thomas Sloan '65, '67 (MS)
Rochester offers more than 40 performing arts-based clubs, including 20 co-curricular dance groups, and produces 20 theater performances annually. Rochester also offers more than 100 music courses in the College and is ranked eighth among American universities for performing arts education. The Sloan Center will support all of this and facilitate the best performing arts experiences possible for students.
Kristine Thompson, January 2020