Meliora in Action
As a student, Kristi Thomas '18 took advantage of everything Rochester had to offer.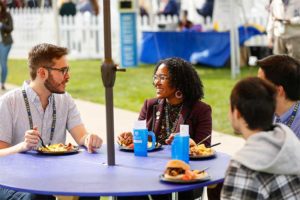 She was a dual major in economics and psychology and a teaching assistant in art and economics classes. She was active in the Black Students Union and lived in the Douglass Leadership House.
She loved being a Meridian—an admissions tour guide—and a Student Alumni Ambassador. She was active in the arts on campus, a member of a student choir, and even served as the student building manager for Wilson Commons.
Thomas was also part of the first cohort of Posse Foundation scholars to graduate from the University. Posse provides full-tuition merit scholarships annually to qualified students from the Washington, D.C., area who have extraordinary academic and leadership potential. These scholars also receive academic coaching and support before college even starts. Since graduating, Thomas has worked as an analyst at Deloitte, one of the big four global accounting firms. She's paying it forward as an alumna there, too. She recently organized an "Impact Day" for newly named Posse scholars, giving them an in-depth look at what working at Deloitte is like. Thomas also speaks about her experience to Posse scholars who are considering Rochester for college.
"Young alumni events are a lot of fun. They give me an opportunity to reconnect with old friends and make new ones, all of whom share a passion for Rochester."
—Kristi Thomas '18
But that's not all. Thomas is an active member of the Young Alumni Council and helps spearhead events for the group in the Capital City. "These events are a lot of fun," she says. "They give me an opportunity to reconnect with old friends and make new ones, all of whom share a passion for Rochester."
Kristine Thompson, January 2020