Fairchild Award Honors
Fairchild Award honors mural artist Sarah C. Rutherford
When artist Sarah C. Rutherford painted a mural of Susan B. Anthony in the tunnel system under Dewey Hall in 2015, the seed of an idea was planted.
"It made me think about Anthony's legacy, and I wanted to translate that to the larger community," Rutherford says.
So began the project "Her Voice Carries," which has earned Rutherford this year's Lillian Fairchild Memorial Award. The award has been given for more than 80 years to a Rochester-based visual artist, writer, choreographer or composer for commitment to the community. Born and raised in Boston, Rutherford has called Rochester home for the last decade.
A tribute to five Rochester women who work to lift others' voices in the community, the project includes five murals, one in each of the city's quadrants and another in Center City. Each mural depicts one of the women and is painted in a location appropriate to her community work. The Fairchild Award specifically recognizes "Her Voice Carries: Prelude," an installation at the Memorial Art Gallery that points viewers to the other paintings and unites all five women in a single mural.
The award was presented to Rutherford on March 8. At the presentation ceremony, Rosemary Kegl, chair of the English department, called the museum exhibition "compelling in itself and as testimony to the extraordinary originality of the larger 'Her Voice Carries' project."
Kegl headed the award committee, whose members also included Jonathan Binstock, the Mary W. and Donald R. Clark Director of the Memorial Art Gallery; Roger Freitas, an associate professor of musicology at Eastman; and Paul Duro, a professor in the Department of Art and Art History.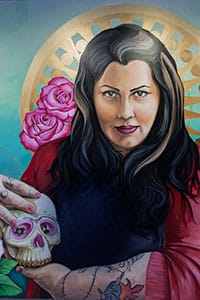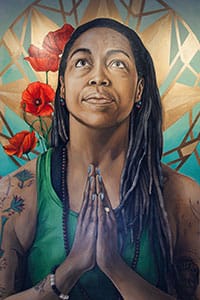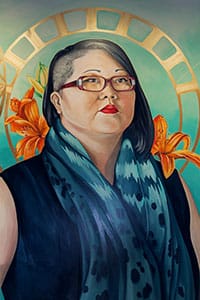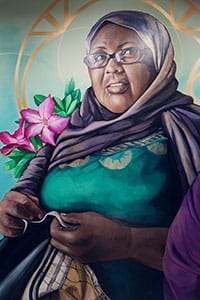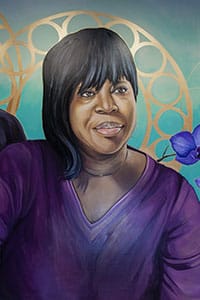 The women depicted in Rutherford's murals are involved in a range of community issues:
Trelawney McCoy works as a project counselor at the University, supporting young mothers as they work toward independence. She is an adoptive, foster, and biological mother of nine children. Her mural is in the Susan B. Anthony neighborhood, in the city's Northeast Quadrant.
Rachel McKibbens is a poet and activist for mental health awareness and gender equality. She also advocates for victims of domestic abuse and violence. McKibbens founded the Pink Door Writing Retreat for women writers of color. Her mural is at Planned Parenthood in Rochester's Northwest Quadrant.
Imani Olear is the pastor of Reformation Church and the founder of Yoga for a Good Hood, which brings yoga and meditation to people who otherwise would not have access to it. The Charles Settlement House in Center City is home to her mural.
Safi Osman is a founding member of Refugees Helping Refugees. Born in Somali, Osman has lived in the U.S. for two decades. She's known as "Momma Safi" by newly arrived refugees, and she teaches them sewing skills, acts as an emergency translator, and provides transportation to those in need. Her mural is at the Southwest Quadrant's Reformation Lutheran Church.
KaeLyn Rich is a queer feminist, direct action organizer, writer, and sexuality educator who is an assistant advocacy director for the New York Civil Liberties Union and the cofounder and editor of "Queer Family Matters." The location of her mural will be announced this spring.
Rutherford says receiving the award is particularly gratifying because recognition of her art is also recognition for the work of the women. "It's a chain," she says. "I feel like I'm the conduit for this project, not the only author." In addition to her collaboration with the women depicted, Rutherford is also carrying out the project with the aid of two young artist apprentices, Charisse Warnick and Maribel Hernandez, and a project assistant, Elizabeth Lenz.
"Sarah is more than just a terrific talent and mural painter, and her work goes beyond beautifying walls and places," says MAG director Binstock. "Through art she brings people together, she brings communities together, and for this she deserves extraordinary recognition."
Rutherford hopes to expand the project beyond Rochester, to highlight women's work for their communities in other cities, as well.
This spring, she is teaching Introduction to Painting and Advanced Painting for the University's studio art program. In the latter course, she's giving students a taste of mural painting.
The murals of "Her Voice Carries" range from large (70 by 20 feet) to immense: Olear's mural on the Charles Settlement House reaches five stories high. That kind of visibility is important, says Rutherford. Murals are "accessible to all—they're not based on someone owning the art."
And once completed—a process that takes Rutherford from two to six weeks—they become part of the urban landscape.
"Murals work their way into the fabric of people's daily lives," she says.