Engineering a better guitar
Engineering a better guitar
Making their mark: This is one in a series of profiles celebrating members of Rochester's graduating class of 2018. We also invite you to view recent profiles of the class of 2021.
Juan Estrella '18 is a classical guitarist who chafes at the constraints traditional instruments place on artistic expression.
"We can still create great art, but not as great as it would be with better tools," he says.
And that is why Estrella is in the audio and music engineering program at the University of Rochester. He is attempting to create a "new electronic musical interface" that would free musicians from those constraints – and set a new standard for instrument design.
This is not just a senior design project, Estrella says. "I regard it as my life's work."
The musical equivalent of a Model T Ford
A traditional six-string guitar has a range of only three octaves. Two hands are required to produce a single note: One to fret, the other to pluck. "That's really inefficient," Estrella says.
So, what does he have in mind?
"Basically, think of an elliptical guitar neck, two feet long, with 48 frets and 14 strings that go all the way around," Estrella says. "Retractable legs on both ends lift it off the table."
This instrument will produce tones over 12 octaves – using just the three strings on top of the neck. Tones are generated by simply pressing the strings against a touch screen wrapped around the underlying surface. In other words, no more plucking. Because this requires only one hand, both hands are free to fret chords and scales, while simultaneously adjusting pitch, volume, vibrato, speed, loop, distortion, or any other user defined effect, thus making guitar foot pedals obsolete as well.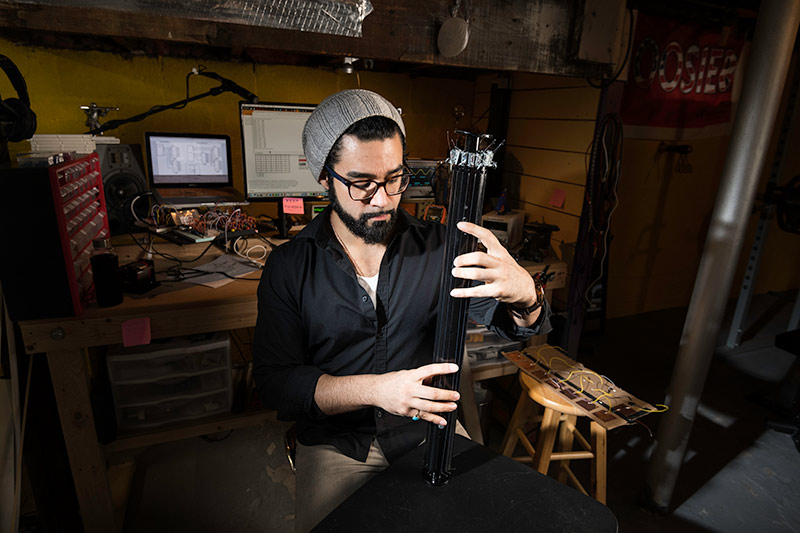 The idea is to create tones that merge together in a continuous sequence, like a singer's voice – not in discrete notes, or "chunks," which is still the case even with many of the new musical interfaces on the market, Estrella says.
"The physical interfaces of the guitar, and the piano, have been more or less the same for more than 200 years," Estrella says. "Playing these instruments is the musical equivalent of driving a Model T Ford. They have too many limitations of range, expression, timbre, dexterity, you name it. We've discovered electricity since then, and it's time to leverage that."
Estrella has completed the neck and the stands, and has attached the strings. The next challenge is creating a touch screen and coming up with the electronics needed to process as many as 672 inputs.
"That's a tough engineering problem," concedes David Anderson, assistant professor of electrical and computer engineering, who supervises the audio and music engineering senior design projects.
"But it's a neat path that Juan's going down."
From the Navy to a master's degree
Initially, Estrella thought he would gain the electrical engineering skills he needed by joining the Navy as an electronics technician.
"They taught me a lot about missile launchers, and radar transmitters, and servo controllers, but if my toaster broke down, I don't know that I would be able to fix it," Estrella says.  "It was very specialized."
After six years and three deployments, he left the Navy, and applied to the University of Rochester.
"I was hiking the Appalachian Trail when I found out I got in," he says. "It was the first and only college I ever applied to."
He's glad he did. "All in all, it's been a great experience. I've got nearly all the information that I came for. Audio and music engineering is an eclectic department with many passionate and talented professors."
In September, he'll enter the University's Technical Entrepreneurship and Management (TEAM) master's program – the next step on his path to eventually starting his own company.
"I've never felt any ambiguity about my purpose in life, or what I'm supposed to be doing," Estrella says. "There is nowhere else I'd rather be."