That was then, this is now
That was then, this is now
Campus spaces are home to many memories for students, faculty, and the University's broad community. Take a visual walk through of some of some of these spaces, and see how they've changed over the years.
Click and drag the arrows in the center of each photo to toggle through history.
Rush Rhees Library: a campus icon
Designed to serve as the centerpiece of the River Campus when it was opened in 1930, Rush Rhees Library retains its classical ambiance while offering today's researchers, students, and scholars the latest technologies and resources. The River Campus Libraries, of which Rush Rhees Library is a part, serves as an information gateway, a programming hub, and a technology-rich resource.
Rush Rhees Library: from low- to high-tech
From the card catalogs of yesterday to the high tech collaborative space of Evans Lam Square today, Rush Rhees Library offers students and faculty the tools they need to thrive. Evans Lam '83, '84S (MBA) whose gift allowed the construction of the space, has said that "it is the focal point for students to learn, explore, research, socialize, and showcase their achievements."
Rush Rhees Library: the "stacks"
Every student, past and present, knows the "stacks." They contain River Campus Libraries' main circulating collection of books in the humanities and social sciences.
River Campus quads: from tents to hammocks
In the 1970s, students donned cut-off shorts and at orientation time hung out in canvas tents on the fraternity quad. Today, canvas tents have been replaced by hammocks—ubiquitous on nice days and perfect for relaxing and studying.
Student life: chilling out
In the 1970s, chilling with friends looked like this: sitting in oval "comfy" chairs, huddled around a 13-inch (or so) black-and-white TV. Today, it means collaborating with a friend or two in a space like Ronald Rettner Hall, a state-of-the-art, technology-infused facility and hub for arts, sciences, and engineering students.
Getting wet: the Speegle-Wilbraham Aquatic Center
The Speegle-Wilbraham Aquatic Center was named for Roman "Speed" Speegle and Hazel Wilbraham, two of the exemplary teachers in the University of Rochester's vibrant history. Speegle is pictured on the left, with his team from the 1950s. In the summer of 2012, the pool underwent a major renovation including a re-surfacing of the pool, updated locker rooms, and a state-of-the-art filtration system.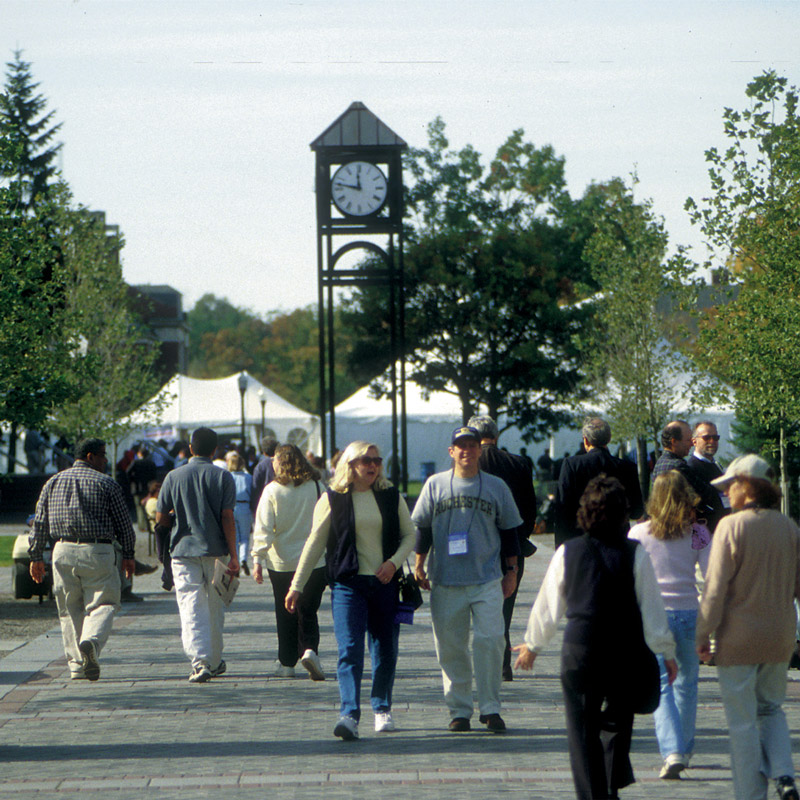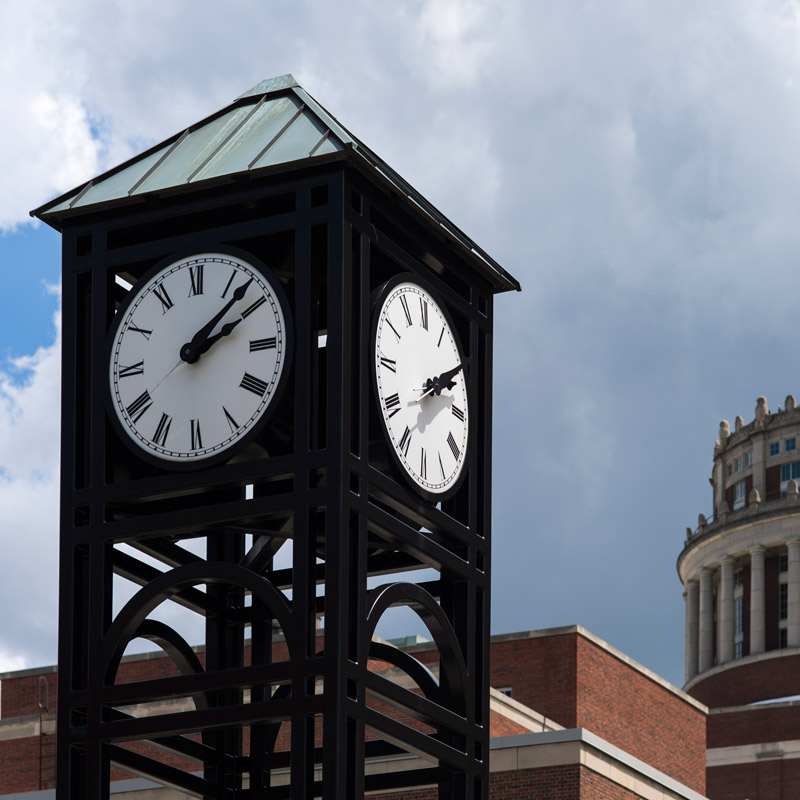 Tick tock on the clock
The clock tower is the source for some campus superstitions. You'll find the tower in Dandelion Square, which is the area between Wilson Commons and the Goergen Athletic Center.
The superstition about the clock tower is that if you walk under it and tread on the dandelions, something dreadful will happen to you. For example, if you're a prospective student, you won't be admitted; if you're a current student, you won't graduate on time. So walk under the clock tower at your own risk.
If you accidentally tempt fate, there is a way to avoid catastrophe. You'll need an acorn, a statue, and good aim: throw an acorn at the statue of George Eastman in the quad and have it land in the brim of his hat. You are then absolved. But stock up on acorns just in case you forget to watch where you're walking.
Douglass: A Hub for Student Life
The Frederick Douglass Building has undergone a lot of changes over the years. Opened in 1955 as the Men's Dining Center (pictured on the left), Douglass was expanded in 1963 to add the third and fourth floors and was named four years later to honor Frederick Douglass, the 19th-century African-American abolitionist and social reformer who made his home in Rochester.
In 2016, it was renovated and reinvented as a new hub of student life. It features a variety of dining options, including kosher and international stations, as well as the Feldman Ballroom (ideal for cultural expos, dinners, concerts, and more), a language center, and the Paul J. Burgett Intercultural Center (pictured on the right).
The Rat to Rocky
Food is a big part of student life. For many years, students spent their food money and time at the Rathskellar (aka "The Rat"), the campus bar. Today, the space is home to Rocky's Sub Shop and Lounge, a place to relax, watch TV, play pool or board games, and, of course, get something to eat.
Science labs
Pictured on left, a 1964 biology lab in Dewey Hall. On right, a Hutchison Hall undergraduate chemistry lab renovated in 2011—a space that hadn't been updated in 40 years. This 2,400-square-foot lab was redesigned with one goal: to enhance student learning. The workspace is in the center of the lab, which encourages collaboration and discussion.
New equipment was also key, from LCD screens to vacuum systems to fume hoods with high-tech filters. Designing for maximum workflow efficiency was also important, to reduce worktime for students who need to use lab materials and equipment. Says Joseph Dinnocenzo, a chemistry professor who was involved in the renovation, "If you want a modern scientific education, you need a modern facility."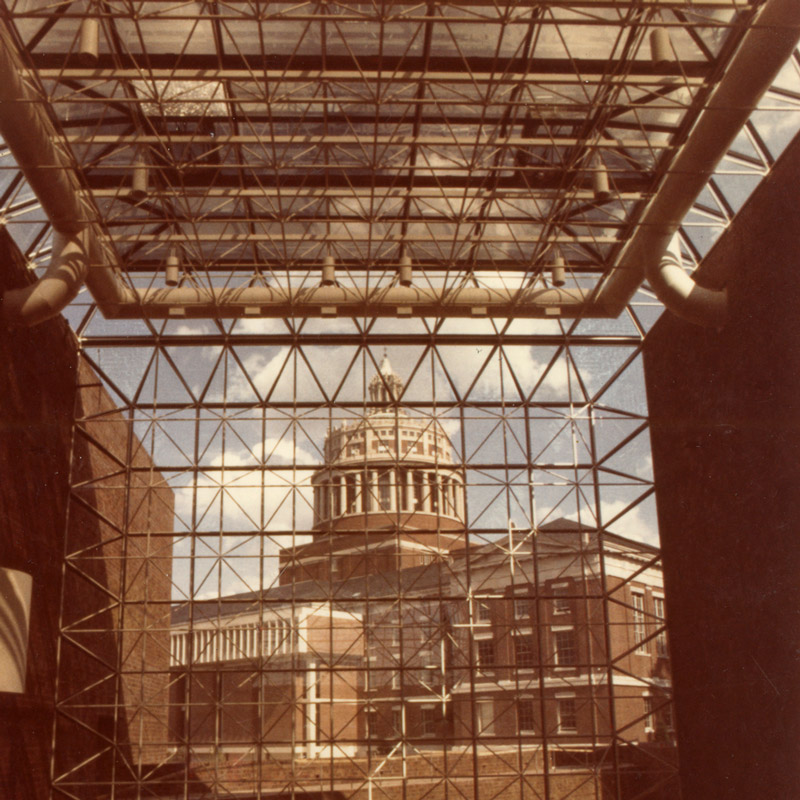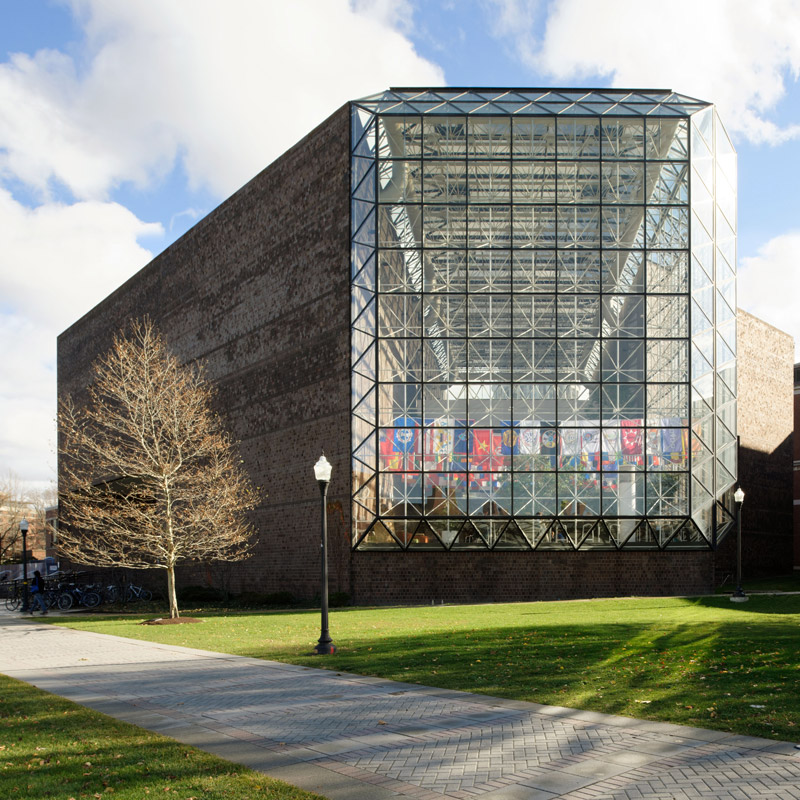 Wilson Commons
Wilson Commons, designed by the architectural firm of I.M. Pei, opened in 1976. As a central location for campus life, Wilson Commons provides space for meetings, special events, relaxation, recreation, and dining throughout its five floors. The building also provides office space to the Office of the Dean of Students and to many student organizations in the Ruth Merrill Center.
The Pit
Previously known as "The Commons," the Pit is located on the first floor of Wilson Commons. For years, students affectionately called it the Pit. Acknowledging that, the University officially changed its name in 2017.
Today, the Pit offers several dining options from pizza and smoothies to burritos and a salad bar. In the picture on the right, you can also see Hirst Lounge, which students often refer to as the Flag Lounge. Here, flags hang that represent the nations and territories of the current student population.
Sue B. Anthony residential hall
Fondly referred to as "Sue B.," this freshmen residence hall was named for the famous local suffragist in 1974. Each wing is named for an individual important to women's education at Rochester. The building features four coed floors as well as a rooftop solarium, large meeting and programming areas, and a formal lounge. It also contains Danforth Dining Center and Hillside Market. Here's a bit of trivia: the College itself went coed in the fall of 1955, when the men's and women's colleges formally merged.
Todd Theater
Todd Theater originally was the main dining center of the college. It also contained offices for student groups and provided a general gathering space for students; it also required a $10 fee from students who wished to become members of it. Named for George Todd, whose vision for a campus by the Genesee was realized with the River Campus, the building offered amenities for lounging, reading, and card games.
Today, the Todd Theater houses the School of Arts & Sciences' theater program, which is part of the English department, and Todd Theater itself, a large black box theater in what was once the formal dining room. The theater is named after Elizabeth Connelly Todd, a generous University benefactor, and the daughter-in-law of George Todd. In 2014, the Linda E. Sloan Studio opened inside Todd Theatre and provides much-needed acting, voice, dance and movement, and multi-purpose studio space.
But, with growing student demand for performing arts programs, spaces are limited for classes, rehearsals, performances, and workshops. To address that need and strategic priority, the University is planning to open the Sloan Performing Arts Center in fall of 2020—a new 25,000-square-foot space adjacent to Todd Theatre.
Sage and the Towers
Opened in 1962 as a dining hall serving the first co-educational dormitories at the University and in the U.S., the Sage Arts Center now houses the studio art program for the School of Arts & Sciences' art and art history department. Sage includes a gallery, photography lab, wood shop, metal shop, digital sound editing suite, a plaster and clay working area, and two seminar spaces.
From this vantage point, Sage sits in front of Anderson and Wilder towers. Students and alumni alike commonly refer to these residential halls as "the Towers." O'Brien Hall, a 150-student residence hall that opened in 2012, sits between the Towers and behind Sage today, a noticeable addition to the campus landscape.
General Dentistry
The Eastman Institute for Oral Health's (EIOH) General Dentistry Clinic cares for the highest volume of its patients—more than 10,000 each year—diagnosing and treating both routine and complex conditions, referring patients to dental or medical specialists as needed, and training the largest group of dental residents each year. In this clinic, and in many of EIOH's other facilities, capacity to treat patients was surpassed 20 years ago. New renovations will help add essential technology upgrades, enhance resident training, and provide the care people need regardless of health issues or abilities.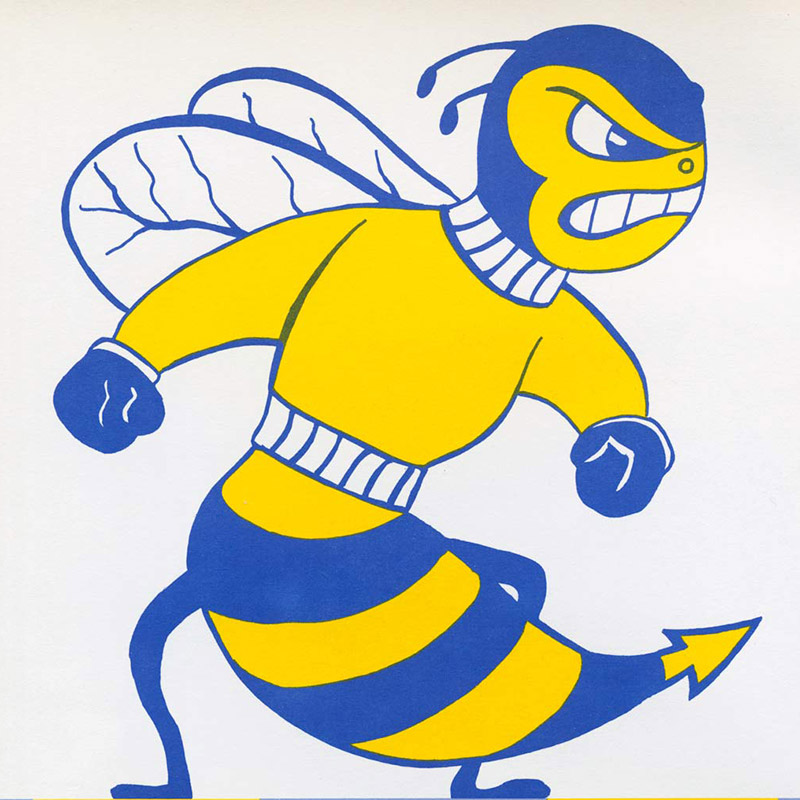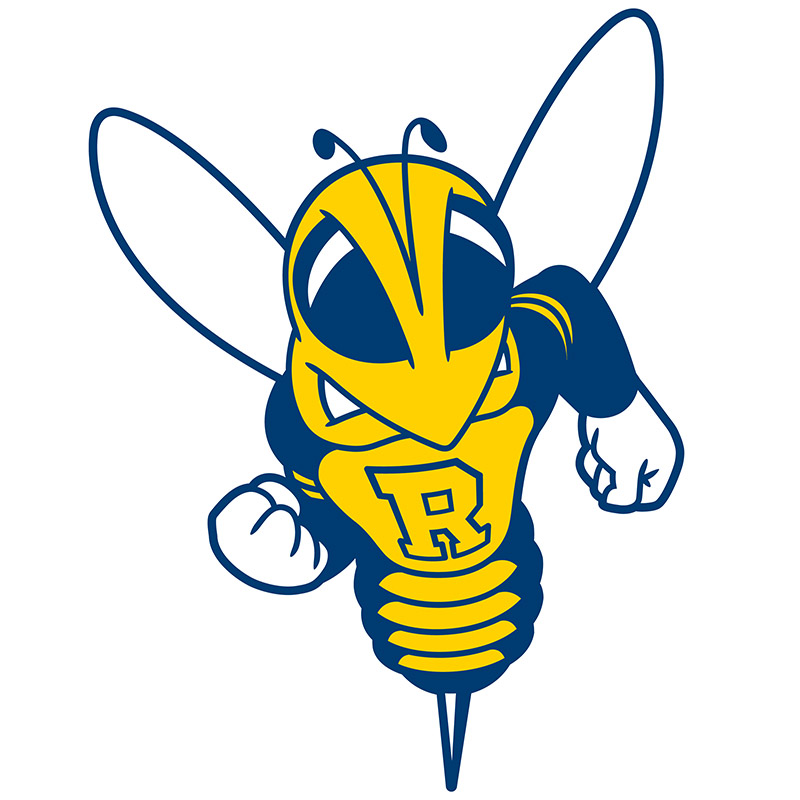 Old Rocky to new Rocky
Rocky is Rochester's Yellowjacket mascot, based on the yellow jacket wasp common in North America. Since the mid-1920s, the mascot has been portrayed in a range of styles, from club-wielding to cuddly. Check out Rocky through the years here. In 2017, he got another new look, featured above and in this video.
Memorial Art Gallery
A visit to the Memorial Art Gallery is a walk through more than 5,000 years of art history. In addition to its permanent collection of more than 12,000 objects, the museum offers a year-round schedule of temporary exhibitions, lectures, concerts, tours and family activities.
In 1913, Emily Sibley Watson founded the museum as a memorial to her son, architect James G. Averell. Given in trust to the University of Rochester, it is one of the few university-affiliated art museums in the country that also serves as community art museum.
Eastman School of Music
Opened in 1922, the 3,094-seat Eastman Theatre was built by Eastman Kodak Company's founder George Eastman as a center for music, dance, and silent film with live orchestral and organ accompaniment — and "for the enrichment of community life" (which is inscribed on the theatre's façade). Its opulent architecture and décor reflect the taste and elegance of the 1920s.
In 2016, the University completed a multi-year renovation and expansion project that updated and transformed the theater while retaining its historic and aesthetic qualities.
Today, Eastman Theatre continues to be used as the primary concert hall for Eastman's acclaimed orchestras, wind ensembles, jazz ensembles, and chorale, and for fully staged operatic productions by the school's opera department. In addition, it serves as the principal hall for the Rochester Philharmonic Orchestra, and as a venue for some of Rochester's premier events, lectures, and performances.
From Eastman Theatre to practice rooms to classrooms for Eastman students and the community, spaces continue to be of critical importance to musicians.
James P. Wilmot Cancer Center
In 2000, the University of Rochester Cancer Center was renamed the James P. Wilmot Cancer Center to honor the philanthropic legacy of James P. Wilmot, the James P. Wilmot Foundation, and the ongoing generosity of the Wilmot family. Today, the more than 264,000-square-foot state-of-the-art building is a comprehensive cancer hospital. It provides a full continuum of inpatient and outpatient care and facilitates collaborations among researchers and clinicians to advance discoveries for the prevention and treatment of cancer for individuals in the region.
---
—Kristine Thompson. Web development by Phil Sennett. June 2018