Olivia Todd '18W (MS)
Olivia Todd '18W (MS)
Area of focus: Science education and inclusion
Hometown: Fleischmanns, NY
Scholarship: The George LaVie Schultz George Eastman Circle Scholarship
Dear Donor,
Through your generosity, I have been afforded the opportunity to be a University of Rochester student – this comes as a great privilege, and also with great responsibility. As a science educator, I aspire to engage my students by encouraging interdisciplinary, active learning approaches. I challenge my students to think about the biological and environmental issues that our world faces; these issues are complex, and so too are our methods for fixing them. By fostering an environment where diversity is not only accepted, but a necessity, together we will learn how seemingly small actions can have a great impact on our world. Thank you for the great impact you have had on students far beyond the University every single day.
Regards,
Olivia Todd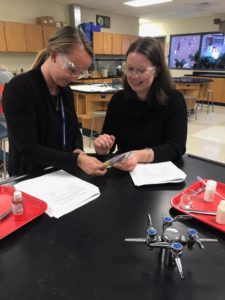 "In my search for a University to pursue my master's degree, I wanted to find a place focused on ingenuity, determination, and dedication to its curriculum, community, and students of all backgrounds. I know I have found the perfect place for my beginning as an educator. For that, I thank all of you for making the University of Rochester the place that it is, with the many opportunities it provides.
At a young age I was taught how to care for a plant, beginning by carefully nurturing the seedling and then harvesting the fruits and vegetables each plant bore. In 1945 my grandparents began a tree and plant nursery in Fleischmanns, New York, an agricultural town with a population of 300 nestled in the Catskill Mountains.
What started as a business necessary to pay the bills quickly grew to a family-wide operation that provided educational opportunities in plant sciences and supported small-town economics. The business also encouraged leadership, collaboration, and responsibility.
While working alongside three generations of my family, I learned the importance of interdisciplinary study and the excitement that accompanies the ongoing learning process. These lessons have stuck with me as I've traveled the world and gained experience and knowledge through my studies.
Throughout my graduate studies I have built confidence, expanded upon my leadership skills, established connections with experienced professors and alumni, and built a tool box of teaching strategies to engage in social justice issues. Also, as a graduate student at the Warner School of Education, I have engaged in learning beyond the classroom to include active research and participation in preparation programs through GetReal! Science.
The process of learning, like scientific inquiry, is not something that should be approached from a linear perspective. As an educator, I hope to bring excitement to the classroom for each student, whether it is for the future research scientist, farmer, educator, doctor, or artist. I want students to see that STEM (science, technology, engineering, and mathematics) is a part of everything we do. My hope for young learners is that they will pursue lifelong learning, be willing to persevere, and take on new challenges.
Support a deserving scholar
To learn how you can help students like Olivia Todd realize their academic dreams and potential, contact Stephen A. Dare, Senior Associate Vice President for University Advancement for Academic Relations, at (585) 275-7530.
The George LaVie Schultz George Eastman Circle Scholarship was established in 2015 with a gift from Elizabeth Schultz '80M (MS), '97M (MD), '02M (Res). The George LaVie Schultz George Eastman Circle Scholarship benefits students in the Warner School of Education.
---
—Olivia Todd was a student guest presenter at a recent George Eastman Circle event. The information here is excerpted from her remarks, April 2018.