Jamal Jefferson '17S (MBA), '19M (MD)
Jamal Jefferson '17S (MBA), '19M (MD)
Jamal Jefferson '17S (MBA), '19M (MD)
Hometown: Washington, D.C.
Scholarships: Dr. Marvin J. and Nancy Yanes Hoffman Scholarship, Nyla C. Kelson Endowment, Gary P. Johnson Endowed Scholarship
Dear Donors,
I am extremely grateful for your scholarship support. When I received these scholarships, I was overjoyed with the fact that I wouldn't have to take out more money and put more stress on my career choice. Meliora. 
Sincerely,
Jamal Jefferson
"About five years ago, I received my acceptance letter from the University of Rochester School of Medicine and Dentistry. That letter changed my life.
I'd made the necessary sacrifices to get to that point: I left my starting position on the Williams College football team my senior year to finish my pre-med requirements, I studied hard for the MCAT, and I gained enough experience to convince, not only an admissions committee, but most importantly, myself, that medicine would be my life's work.
My interest in healthcare began in 2009 as I watched the Patient Protection and Affordable Care Act (aka Obamacare) pass through Congress while I was attending Williams. I decided that I wanted to be involved in healthcare in some capacity but didn't know exactly how at the time. I thought about law school, public health school, medical school, or business school at that time. My mom told me to slow down, or I'd be 50 years old by the time finished I school, pursuing all those degrees.
Ultimately, I chose medicine because there is no other profession like it. I hope to never take it for granted. But before I entered medical school, I spent one year at the Simon Business School, gaining the economic tools and the knowledge necessary to understand the complexity of healthcare. At this point, in my third year of medical school, I am leaning toward a career in academic radiology.
There have been many milestones for me over the last few years. During my first year, I spent time tutoring a young 5th grader every Friday in various subjects. Two years ago, I started the Interventional Radiology Interest Group. Last year, I headed the radiology interest group.
Last year, I spent time at the National Institutes of Health doing research in sickle cell traits. I was also quite fortunate to publish a case report and an editorial for the Journal of Vascular and Interventional Radiology.  
The education and support I have received here has been superb, and I am grateful. For those who want to pursue medicine but don't think they can afford it, I want them to know that there are generous scholarship opportunities available and that is possible for those from less privileged backgrounds to afford medical school."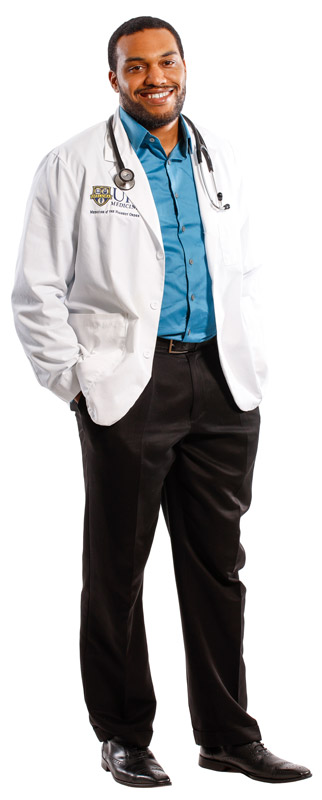 Support a deserving scholar
To learn how you can help students realize their academic dreams and potential, contact Stephen A. Dare, Senior Associate Vice President for University Advancement for Academic Relations, at (585) 275-7530, or Kellie S. Anderson, Senior Associate Vice President for Medical Center Advancement, at (585) 273-4649.
The Dr. Marvin J. and Nancy Yanes Hoffman Scholarship was established in 1972 by several donors in honor of Marvin J. Hoffman '45, '50M (Res). More than 50 Hoffman Scholars have benefited from the fund which supports aspiring physicians.
The Nyla C. Kelson Endowment supports School of Medicine and Dentistry scholarships, and the Gary P. Johnson Endowed Scholarship provides financial assistance to Simon Business School students.
---
—Story compiled by Kristine Thompson, with quotes and content directly from Jamal Jefferson, April 2018