Wilmot among first to offer landmark cancer therapy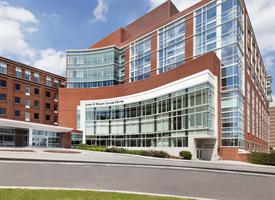 UR Medicine's Wilmot Cancer Institute will be among the first sites in the world to offer CAR T-cell therapy —a new type of immunotherapy—to adults with aggressive lymphoma. The engineered gene therapy has been described as a revolutionary "living drug" and one of the most powerful cancer treatments to emerge in recent years.
The U.S. Food and Drug Administration this week approved Kite Pharma's therapy, called Yescarta. It works by boosting a patient's immune system to seek and kill the cancer cells involved in diffuse large B-cell lymphoma, a type of blood cancer for which there is no cure.
Wilmot is the only cancer center in upstate New York and between Michigan and Boston approved to provide Yescarta therapy.
"This is potentially transformative therapy for a subset of patients with relapsed, aggressive lymphomas who have few other options," said Wilmot Director Jonathan Friedberg, M.D., M.M.Sc., and a lymphoma expert. "Wilmot was the only center in New York state outside of New York City to participate in the clinical trials for this new treatment and has the experience to administer CAR T-cells. We're excited to now launch the region's first CAR T-cell program for lymphoma, and expect to serve patients from New York, Pennsylvania, Ohio, Canada, and beyond."
Wilmot completed the qualification process to administer the FDA-approved therapy in December, and the new treatment is now available.
CAR T-cell treatment, which was originally developed at the National Cancer Institute, involves extracting millions of a patient's own T cells, a type of white blood cell that usually fights infection. The cells are then flown to Kite's manufacturing center near Los Angeles.
There, scientists use bioengineering techniques to reprogram the immune cells to attack a protein called CD19 that sits on the surface of diffuse large B-cell lymphoma cells. That process takes about 17 days. The patient receives special chemotherapy. Then, the CAR T-cells are flown back to the treating hospital and infused into the patient through an intravenous catheter, which takes less than 30 minutes.
For the next several days, the patient's immune system goes into overdrive while a team of doctors and nurses manage the severe and sometimes life-threatening side effects from inflammation. Later, doctors conduct imaging tests to find out if the CAR T-cell therapy wiped out the cancer.
In 2015-2016 when Kite began evaluating Yescarta in clinical trials, the company selected Wilmot as a partner based on Wilmot's experience and status as one of the best lymphoma programs in the country. With FDA approval, Wilmot is again one of a small number of medical centers chosen early to administer the therapy.
The 2016 clinical study required specialized training for a large group of University of Rochester Medical Center oncologists, physicians and nurses, including the I.C.U. team, to give the treatment and support patients through the period of serious side effects and complications.
The study was restricted to diffuse large B-cell lymphoma patients who had exhausted other means of treatment and had a life expectancy of only a few months, but who were still healthy enough to receive CAR T-cells. Wilmot enrolled two people from upstate New York: One has been in remission for more than a year and remains healthy; the other achieved complete remission for nine month but later died after his cancer returned in a different form that was not recognized by the engineered T-cells.
Nationwide, more than 100 patients took part in the Kite study, which was highlighted last December by the American College of Hematology as high-impact research. Although three patients died, the results also showed promise: Approximately 80 percent responded to the CAR T-cell therapy in some way and more than 50 percent had a complete response, meaning their tumors disappeared—a statistic that's "out of the ballpark" considering that these patients only had a few weeks or months to live, said Patrick M. Reagan, M.D., who, along with Friedberg, led the Wilmot study.
Reagan's lymphoma clinic is being certified by Kite as the primary site for all patients eligible to receive Yescarta at Wilmot.
"We're excited about the potential of this therapy," Reagan said, "but we're also mindful that it's very new and that patient safety is our primary objective. We have the expertise and we plan to roll it out slowly and carefully."
Lymphoma is the most common blood cancer in the U.S. but there are dozens of different types. It starts when lymph tissues and cells in the immune system become malignant. Diffuse large B-cell lymphoma is one type that occurs fairly often. About two-thirds of B-cell patients go into remission after standard chemotherapy and other treatments.
But in one-third of the patients, the cancer is resistant to chemotherapy or the patient suffers a relapse with aggressive disease. For people in these situations, little has been available until immunotherapy therapy was introduced.
Kite Pharma is working with insurers nationwide and regionally to determine cost and coverage for the treatment.
In addition to Kite's version of engineered CAR T-cell therapy, other drug companies such as Novartis have been racing to develop similar versions of the treatment for different types of cancer. On Aug. 30, for example, the FDA approved a CAR T-cell therapy for pediatric acute lymphoblastic leukemia (ALL).
Wilmot continues to be involved in clinical research to apply CAR T-cell therapy to additional types of lymphoma and leukemia, multiple myeloma, and some solid tumors.
Support Wilmot Cancer Center
To learn how you can support Wilmot Cancer Center, please contact Kristie Robertson-Coyne, Senior Director, at kristie.robertson-coyne@rochester.edu (585) 276-6250.