Five with James VanDemark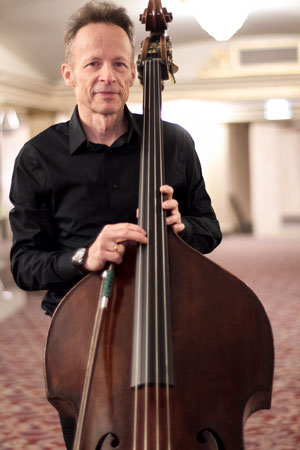 James VanDemark is a renowned professor of double bass at the Eastman School of Music. His former students hold positions in leading international symphony orchestras, universities, conservatories, and have won numerous competitions and awards, including Grammy Awards. This year, he celebrates 41 years at Eastman. Here he reflects on what he's learned, and what lies ahead:
You started your career as a principal bass player in the Hamilton Philharmonic in Canada at just 17. Looking back, what did that teach you?
I had to drop the typical arrogance of a 17-year-old and realize that there was still a lot I needed to learn. I recognized the necessity of listening to, and respecting a variety of opinions, musical and personal. I often tell my students that their professional reputation will be based not only on their performing ability, but also on their personal skills.
How did you end up at Eastman?
I was finishing my studies at SUNY Buffalo, trying to figure out what I was going to do post-college. My plan was either to begin taking orchestra auditions, or continue studying at Julliard under Leonard Rose, the distinguished cellist. At that point, Oscar Zimmerman, my predecessor at Eastman, was retiring; I was invited to give a class, and apparently it went well!
How has your teaching style evolved over the last four decades?
I've always tried to teach what I learned from the great performers with whom I've studied, my own observations, and my own imagination and experience. I make it clear to my students that I'm not training them to do exactly what I might have done, but rather to assist them in developing and fulfilling their own passions. I find that far more gratifying than simply producing "cookie cutter" versions of me. I witnessed that approach as a student, and have always rejected it.
You're also a boxer, which you credit with making you a better musician. Tell me more about that.
In my mid-50s I wanted to help ensure the longevity of my career, something many musicians encounter. I found that the classic boxing training requires much the same rhythmic coordination found in music—punch combinations, the speed bag, and jump rope. It didn't take long to notice that my stamina, reflexes, and concentration for playing the bass were dramatically enhanced by boxing.  For some years now I've brought my students to ROC Boxing to work with my trainer and they love it!
Looking back on more than 40 years at Eastman, what has been the biggest change?
The standard of performance is certainly higher, and so are the expectations, so it is an even greater pleasure to be here teaching than it was in the past. There is now quite a diversity of students here, all with an absolutely burning passion for music in its many forms and for musical careers that are now in many forms. What's not to love?
Enriching the world through music
To support faculty members like VanDemark, contact Cathy Hain, assistant vice president of advancement for Eastman School of Music, at (585) 274-1045.