Caring for the whole person
"Early on here, we learn that even though we love science and solving problems, our patients are people and that they are so much more than their lab data and their clinical exam findings." 
—Mike Kelly
Caring for the whole person
At the University of Rochester's School of Medicine and Dentistry (SMD), Michael Kelly '18M (MD) works hard to understand a patient's life outside the hospital. As a medical student pursuing dual degrees in pediatrics and internal medicine, he takes into account someone's career, hobbies, family background, religious beliefs, and more. He also considers their mental, emotional, and religious backgrounds, and their lifestyles. For him and other medical students, doing this is as important as understanding someone's imaging, bloodwork, and labs.
Essentially, this means that medical students here learn to treat people, not just "patients." They work collaboratively with all those involved in caregiving, from the front line nursing staff to social workers and psychiatrists to specialists in various areas of medicine. "We each have a different perspective so it's important to understand someone from multiple directions," Kelly says.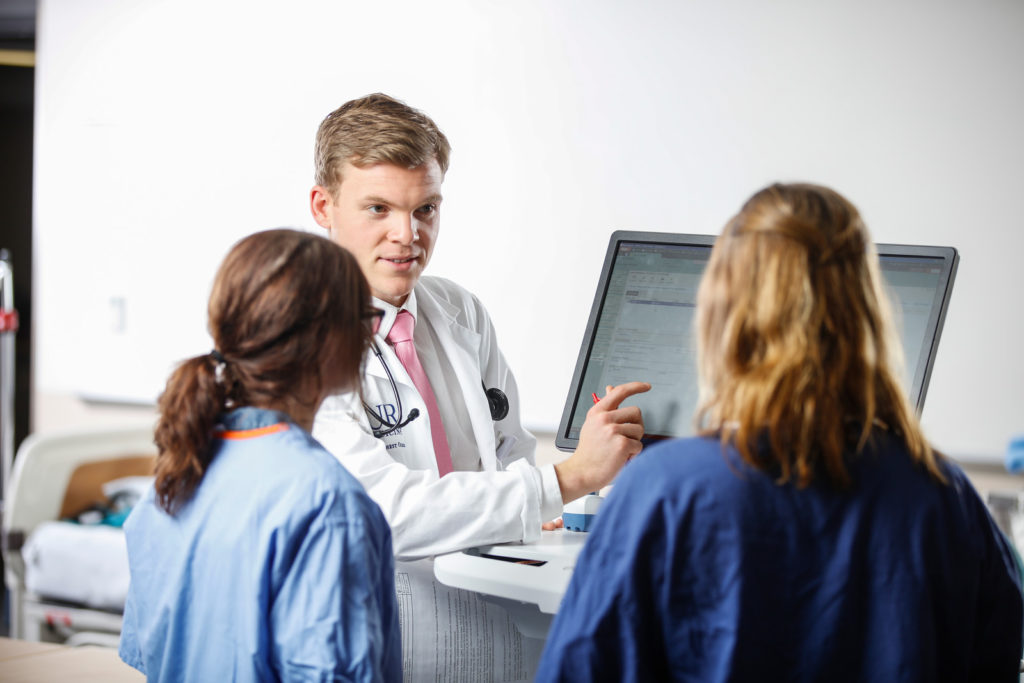 Today, medical schools across the country teach their students an interprofessional approach to patient care (having two or more professions working together to improve patients' outcomes). But SMD's approach is different. It is rooted in and distinguished by the biopsychosocial model—developed here by George Engel and replicated at medical schools across the country—which considers not only the biology of disease, but also how people's mental health, environment, and social factors inform how we care for patients. Medical students like Kelly learn to treat the whole patient, and to do so effectively and with great compassion.
"Not a day goes that we don't talk about a holistic, team-based approach to care," says Kelly. "It's part of life here. It's what differentiates SMD from other schools."
Kelly is nearing the end of his medical education tenure here. He'll graduate in the spring of 2018 with dual certification in internal medicine and pediatrics, a pairing commonly referred to as "med peds." In March, the "match" happens—that's when residents like him find out where their residencies will be.
Kelly is excited for this. And, he is intrigued by the opportunity to work with patients across life's spectrum and to become well-versed in medical issues and treatments that can benefit all.
Stories of care
Diabetes and the Veterinarian: "I was on my internal medicine rotation when a man was brought in with a severe foot ulcer caused by his diabetes. He needed surgery. The gentleman was a veterinarian and he knew about medicine. We needed to recognize that he had a depth of knowledge that other patients don't have.
This gentleman told us how passionate he was about his job and everything he did for animals. He also told us how important it would be for him to be able to bear weight in order to continue his work.
Knowing all of this, the nursing team and I presented him a medically-oriented review of his case. We also brought in the orthopaedic specialists. We needed to work together to save his life and to preserve his livelihood so that he could stand and practice the kind of medicine he needs and wants to."
Medicine, Faith, and Family: "Families are always involved in treatment, especially when it comes to pediatrics. I recall one time when a very sick eight-week-old Mennonite boy was brought into the hospital. His family was from northern Pennsylvania and included not just his parents, but also his aunts, uncles, brothers, and sisters.
The family had many questions, ideas, and opinions. As a medical team, we reviewed all the details with them to the depth that they needed. We discussed various treatment options, potential consequences, and the costs involved. Because of our training, we were completely aware that we needed to step down from the idea that the 'we were the decision makers' and that we needed to think of ourselves as part of the team who would, along with the family, give the boy the care and attention he needed to get better.
Support our medical students
To learn how you can support the education and training of medical students like Mike Kelly, please contact Matt Haag, Associate Vice President of Clinical, Research, and Academic Development, at (585) 276-3638.
---
—Kristine Thompson, January 2017