Oluwatobi "Tobi" Abubakare '18: From Rochester to Hong Kong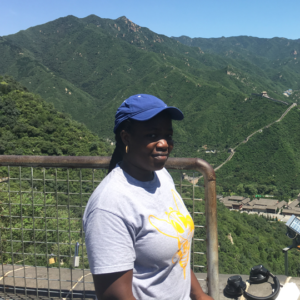 Oluwatobi "Tobi" Abubakare '18
Major: Language and brain development
Hometown: Houston, Texas (born in London, England)
"When I found out I was awarded the Evans Lam Scholarship, tears came down my face."
Tobi Abubakare is pursuing an interdepartmental major in language and brain development. Although she is from Houston, Texas, she is not native to the United States. She was born in London and spent the first few years of her life in Nigeria, where her family is from. For Tobi, going to Hong Kong was a very life-affirming experience.
What did you do when you were in Hong Kong?
When I went to Hong Kong, I spent most of my time exploring different parts of the country by going to random stops along the MTR lines and just walking around in circles, getting lost. I found that walking around (aimlessly) is a good way to learn about culture because sometimes you end up in hidden places where you learn about Hong Kong's dire homelessness problem or find graffiti that shows the disdain certain citizens feel about Hong Kong's handover to China.
What did it mean to you to get this scholarship?
Coming from a low-income background, studying aboard seemed like a dream that would never come true. Hearing stories from my peers about how studying aboard changed their perspective on life and increased their cultural awareness was at times sad to hear because I always assumed I would never get that chance (especially since I was not a U.S. citizen until two years ago).
But when I found out that I was awarded the Evans Lam Scholarship, tears came down my face as I realized that my goal was finally achieved. Getting the scholarship meant that I now had the chance to increase my cultural awareness outside of just reading textbooks and journal articles. It also sparked my new interest in finding more opportunities to travel to non-western cultures and hopefully conducting research aboard using non-western frameworks.
What does Evans mean to you and how has he inspired you?
While Mr. Lam and I are from distinct racial backgrounds, we do share the commonality of coming from low-income households. Through university scholarships and grants, both of us were able to attend UR (although at different times) and develop a character of perseverance and determination as student workers on campus. The similarities have helped me realized that despite my background, it is possible to be successful in my endeavors. Meeting Mr. Lam and getting to know more about his story inspired me to reach for success so that one day I can donate back to the university and change the lives of students like me.
Can you tell me about a particular experience over there that stood out for you?
A memory I will always have forever is my challenging first hike alongside the Dragon's Back Trail in Hong Kong. I have always been told that challenges are there to make you stronger, but the saying didn't really sink in until I went to Hong Kong.
Due to my disabilities, challenges were not a new thing to me as I constantly spent every day dealing with something new. Whether it was the daily physical challenge of mustering enough energy to walk the never-ending stairs around my environment or the mental daily challenge of figuring out how to communicate to others when you have no social skills; These were challenges I knew and could master, but the challenges I met in Hong Kong were different and more difficult in a sense.
One challenge I faced was a physical one, but it was one that I actually placed on myself. Growing up with cerebral palsy, I was constantly told by doctors, family, and society that what I could do physically and mentally was limited due to neurological damage and weakness in my brain and overall body.
But I decided this time around, I was not going to accept that constant mantra of "Tobi can't do this" to "Tobi can do this" and one of the best ways to do that was to hike one of Hong Kong's most famous trails, Dragon's Back, and make it to the Shek O Peak. The trek uphill was very difficult with my body just drenched in sweat as my legs continuously trembled with every step I took.
My body constantly cried out 'stop,' but the mind is sometimes stronger and I just kept telling myself to keep taking that one more step, to just get to my goal. At the moment when it felt like the trail could go on forever, I saw up ahead only a clear blue sky and I knew that I had reached the peak with just a few more steps.
Those last steps to reach the peak were the hardest and the sweetest because I was so close to my goal. When I finally reached the peak, I was overwhelmed with so many emotions that all I could say to myself was that "I made it . . . I can't believe I made it" over and over. The view from the Shek O Peak allowed me to see the Shek O Beach and the calmness of the South China Sea stretching out for infinite miles.
Hiking on the Dragon's Back trail was a surreal experience for me because it showed me that others do not get to determine my limits and that constantly challenging myself enables great amounts of self-growth and determination. Going abroad forces one to get out of their comfortable environment and embark on a journey of self-discovery and cultural awareness that you cannot really get if you stay in your home place.
Building Connections
Global experiences build cultural literacy, foster understanding, and change our perspectives. To learn how you can support a cultural exchange program, contact Lisa Hall, Executive Director, College Advancement, at (585) 273-3619.
---
—Kristine Thompson, December 2017