Leyla Mouli '19: From Rochester to Hong Kong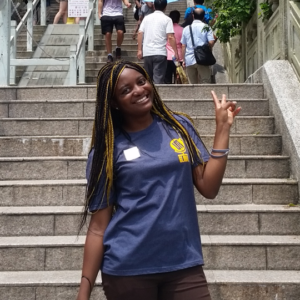 Leyla Mouli '19
Major: Environmental science
Minor: Sustainability
Hometown: Doula, Cameroon
"Evans is a living example of humility . . . he would always remind us that we should remember what made us become who we are, and give back."
Leyla Mouli is an environmental science major with a sustainability minor. She is a native of Douala, Cameroon. She's had two stints as an international student. In high school, she studied in South Africa.  And now she's at the University of Rochester. While in Hong Kong as an Evans Lam Scholar, Mouli learned a lot about herself and what she is capable of accomplishing.
What did you do when you were in Hong Kong?
When I was Hong Kong I studied urban sustainability along with green energy and society at the Chinese University of Hong Kong. I used my free time to make friends, explore the area, and take advantage of Hong Kong's super efficient transportation system.
What did it mean to you to get this scholarship?
This scholarship was for me an opportunity to discover and break any preconception I had about Hong Kong, China, and East Asia in general. Coming from Cameroon, East Asia is not really considered as a travel destination since Europe and North America are the most preferred regions. Without this scholarship, I don't think I would have been able to appreciate Hong Kong's beautiful mix of modern and traditional cultures.
Can you tell me about a particular experience over there that stood out for you?
Due to my Cameroonian citizenship, I was not able to apply for a Chinese visa in Hong Kong, therefore, I could not participate in the Beijing tour organized at the end of the summer session.
Although I was deeply disappointed as I was excitedly waiting for that opportunity to climb the Great Wall, I also took it as an opportunity to travel to other places in East Asia, and I ended up backpacking for a solo trip to Singapore through the Philippines.
I was initially worried and scared, as it was the first time I was taking such a decision for myself, especially being in a part of the world I was not familiar with. This ended up being by far the best decision I had taken that summer, because being by myself I had to figure out in an extra short period of time how to navigate in those countries, and how to communicate with people. I ended up learning a lot about myself, without being influenced by someone else's opinion, and I think that was really a highlight of going for that program.
What does Evans mean to you and how has he inspired you?
Evans is a living example of humility. The two times I met him, he would always remind us that no matter where we are in life, we should remember what made us become who we are, and give back.
Building Connections
Global experiences build cultural literacy, foster understanding, and change our perspectives. To learn how you can support a cultural exchange program, contact Lisa Hall, Executive Director, College Advancement, at (585) 273-3619.
---
—Kristine Thompson, December 2017