James Pike '18: From Hong Kong to Rochester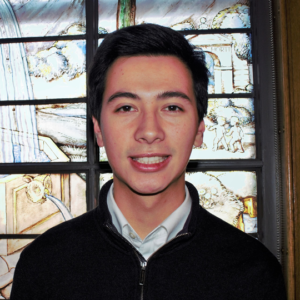 James Pike '18
Major: Economics
Minor: Industrial Psychology
Hometown: Hong Kong, China
"Because of Evans, I can pursue my dreams."
James Pike grew up in Hong Kong with his parents and four siblings. When he was young, his father had a stroke and was forced to retire early. That's when things got really hard for the family. Especially financially.
James was always a strong student, and although his dream was to go to the U.S. to study, he had resigned himself to attending a secondary school in Hong Kong to study law. The only way to get to the U.S. was if he received a full scholarship.
One day in high school, he heard an announcement about the Evans Lam full scholarship at the University of Rochester. That's the first time he heard about the University. He applied, he waited, and, then, he got it.
James packed his bags, boarded a plane, and headed to L.A. where he and a few other Hong Kong Scholars would spend a few days with Evans, which, he says, was a great way to familiarize himself with an unfamiliar country and culture.
He left L.A. and then headed to Rochester. But, upon landing he realized he made it to Rochester, Minnesota, not Rochester, N.Y. "That's how international I was," James chuckles. On the ground in the Midwest, James called Evans who helped him figure out how to get to the right place.
Although James thought he'd study law, he gravitated toward the economics classes here. "I settled on economics as a major because of my professors and because economics is a practical topic that has broad application," he says. James will also graduate with a minor in industrial psychology, and looks forward to combining his interest in economics and workplace issues down the road.
Besides embracing the academics here, James is very involved in student life. He's the president of a business fraternity on campus, served as a resident advisor last year, and he cofounded the Hong Kong students' association.
"Evans talks about how important it is to not just pursue academic activities and get good grades, but to get involved in campus life," says James. "He wants his scholars to be ambassadors for Hong Kong, to help bridge our cultures. I take that very seriously. It's why I helped start the Hong Kong student association."
For James, Evans is more than a scholarship provider, he is a mentor. "He cares about all of us," he adds. "Whenever he is here for trustee meetings, he meets with us. He gives us all great advice and has really helped me develop my potential."
This past summer, James interned at Semler Brossy, a Los Angeles-based executive compensation consultancy. And good news for James: the company offered him a job immediately after graduation.
"I am so grateful to Evans for supporting me, believing in me, and helping me get to this point," he says. "Even though he's known as an investor, he really is an educator, too. He has given so much of his time and resources to help students like me. Because of Evans, I can pursue my dreams."
Building Connections
Global experiences build cultural literacy, foster understanding, and change our perspectives. To learn how you can support a cultural exchange program, contact Lisa Hall, Executive Director, College Advancement, at (585) 273-3619.
---
—Kristine Thompson, December 2017