Grant Dever '16, '17 (T5): From Rochester to Hong Kong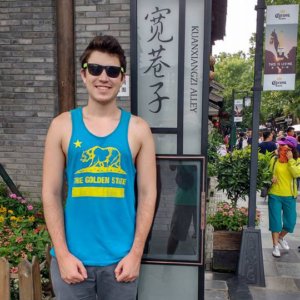 Grant Dever '16, '17 (T5)
Major: Business
Occupation: Barbara J. Burger iZone community manager, University of Rochester
"Going abroad changes you . . . you learn so much about yourself and what you are capable of."
Grant Dever thrives on being busy. As an undergraduate, he excelled in his studies as a business major while also serving as President of the Students' Association Government, a member of Sigma Phi Epsilon fraternity, a resident advisor, president of the 2016 Class Council, an EcoRep, and more. He even studied in Vienna, Austria during the fall of his junior year.
He kept up the pace after graduation.
Before starting a Take 5 year in modernism and creative writing, Dever went to Hong Kong for a month-long immersive program in Hong Kong as an Evans Lam Scholar. Studying and living in Hong Kong was a dream come true for him. Ever since he was in middle school, he has been fascinated with Chinese culture. His appreciation for it developed due to his close friendship with Mac Liu '16, who is a first generation Chinese-American. (He and Mac are still best friends and are even roommates today.)
Dever thought that this time in Hong Kong would provide the chance to gain some proficiency in oral and written Mandarin. Once Dever got to Hong Kong and started attending his daily three-hour long classes, he realized just how hard his proficiency goal would be. "I quickly realized that I needed to focus my energy on speaking, versus writing," Dever says. "This challenging experience proved to be quite humbling, which was good for me."
Dever notes how going abroad broadens one's perspective. "It changes you," he says. "When you are somewhere so vastly different from home and you have to figure out everything. It forces you to ask for help and you learn so much about yourself and what you are capable of."
He had one particularly powerful experience at a send-off event for incoming first year students. "It was really exciting to answer their questions about the College while being on the other side of the world," Dever says. "It emphasized the global nature of the University."
Dever enjoyed the food there, too, especially the duck, noodles, and pork. "I really could never get enough," he noted with a grin. He also appreciated the cultural aspects of Hong Kong and how easy it was to get around. And, he was lucky to add a few weeks to his trip to visit Mac's family, which added to his collection of lifetime memories.
One of the things Dever really appreciated about his scholarship was the connection to Evans Lam himself. "He always makes an effort to meet with his scholars, and he demonstrates how a strong work ethic is critical to success," he adds. "He also has keen insights into macroeconomics, which particularly interests me as a graduate of the business program."
Lam and Dever share something else in common—a passion for the libraries. Having completed his Take 5 year, Dever is now the Barbara J. Burger iZone community manager. Lam, of course, is the benefactor for Lam Square and has supported the University in myriad ways.
"Evans' support for education and bridging cultures is beyond inspiring," says Dever. "It reinforces how important it is to invest your time and energy in what matters the most to you."
Building Connections
Global experiences build cultural literacy, foster understanding, and change our perspectives. To learn how you can support a cultural exchange program, contact Lisa Hall, Executive Director, College Advancement, at (585) 273-3619.
---
—Kristine Thompson, December 2017