Kevin Meuwissen wins exemplary research award
Kevin Meuwissen Named Exemplary Research Award Winner
Annual Award Recognizes Research with Potential to Transform Social Studies Research, Practice
Kevin Meuwissen, associate professor at the University of Rochester's Warner School of Education, has been selected for the 2017 Exemplary Research Award from National Council for the Social Studies (NCSS). Meuwissen will accept the national award at the NCSS 97th Annual Conference in San Francisco, Calif. on Wednesday, Nov. 15. The annual award acknowledges and encourages scholarly inquiry in significant issues and possibilities for social studies education.
Research indicates that adolescents stand to benefit when teachers frame history learning around investigating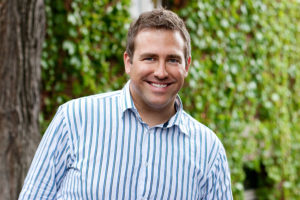 open-ended questions, constructing persuasive arguments, and interpreting and discussing multiple sources of evidence along the way. Because these practices are challenging to implement in classrooms, it is important that teachers have access to extensive, persistent professional learning opportunities focused on developing stances and strategies that support students' historical thinking. Meuwissen's study explores how policies aimed at holding teachers accountable for student achievement outcomes create a teaching context that affects how and whether teachers are able to apply professional development outcomes in historical thinking with their students. Findings from his research study, titled "'Happy Professional Development at an Unhappy Time': Learning to Teach for Historical Thinking in a High-Pressure Accountability Context," published in Theory & Research in Social Education, 45(2), 2017.
In addition, Meuwissen's research points to the need to build sustainable local communities or networks of educators that collectively and consistently focus on strengthening learning and instruction; and for administrators to serve as policy gatekeepers so that teachers can focus primarily on student learning and instructional improvement instead of navigating the constraints of high-stakes accountability environments. In effect, Meuwissen's study points toward a model of professional learning that can improve teachers' uptake of disciplinary thinking, reading, and writing, as aligned with the goals of the College Career and Civic Life (C3) Framework for Social Studies State Standards.
"As an experienced, now retired teacher, I am aware of the many duties and responsibilities of educators and the heroic efforts they make in trying to keep their students engaged while at the same time doing their best to meet accountability measures," says Terry Cherry, president of NCSS. "The research by Kevin is invaluable in sharing the supports needed for teachers to be able to engage students effectively within our current accountability driven environment."
Dr. Lawrence Paska, executive director of NCSS, adds: "Dr. Meuwissen brings us much needed research that should call us to action for a culture of learning that includes not only professional development opportunities to share innovative student engagement practices, but most importantly, teacher professional networks and administrator support structures that enable and empower educators to apply these critical learnings in engaging and benefiting their students."
As part of the award, Meuwissen will present a session highlighting his research on accountability pressures affecting teacher implementation of professional development learnings in San Francisco during the NCSS annual conference on Friday, Nov. 17, at 3:30 p.m.
Meuwissen joined the Warner School faculty in 2009, and currently serves as the director of teacher education and social studies education program coordinator. He has taught at the high school, undergraduate, and graduate levels; has served in professional development and program evaluation capacities for several U.S. Department of Education Teaching American History grants; and currently works as a curricular and pedagogical support specialist with social studies educators at Rochester's East High School, as part of a partnership between the school and the University of Rochester. His teaching and research focus on social studies educators' curricular and pedagogical decision making under the influence of school-institutional politics and competing educational aims, with a new line of scholarship to explore adolescents' political thinking. In spring 2018, he and Paul Fitchett, of the University of North Carolina – Charlotte, will publish a co-edited book, entitled Social Studies in the New Education Policy Era: Conversations on Purposes, Perspectives, and Practices, through Routledge.
He earned his PhD in curriculum and instruction from the University of Maryland, a master's in curriculum development and instructional technology from the University at Albany – SUNY, and a bachelor's in political science from the State University of New York College at Geneseo.
The NCSS Annual Conference is the largest and most comprehensive social studies professional development conference in the United States where social studies educators share, interact, develop ideas, and enhance their skills. This year's theme, "Expanding Visions/Bridging Traditions," will offer more than 900 content-rich sessions covering all subjects and grade levels, a lineup of renowned speakers and education experts, and numerous exhibiting organizations displaying the latest in educational resources.
Founded in 1921, NCSS is the largest professional association in the country devoted solely to social studies education. The mission of NCSS is to provide leadership, service, and support for all social studies educators. The NCSS membership represents K-12 classroom teachers, college and university faculty members, curriculum designers and specialists, social studies supervisors, and leaders in the various disciplines that constitute the social studies.
About the Warner School of Education
Founded in 1958, the University of Rochester's Warner School of Education offers master's and doctoral degree programs in teaching and curriculum, school leadership, higher education, educational policy, counseling, human development, and health professions education. The Warner School of Education offers PhD programs and an accelerated EdD option that allows eligible students to earn a doctorate in education in as few as three years part time while holding a professional job in the same field. The Warner School of Education is recognized both regionally and nationally for its tradition of preparing practitioners and researchers to become leaders and agents of change in schools, universities, and community agencies; generating and disseminating research; and actively participating in education reform.
---
Theresa Danylak, October 2017