Elizabeth Poliner receives 2017 Kafka Prize
Elizabeth Poliner receives 2017 Janet Heidinger Kafka Prize
As a young attorney at a Washington, D.C., law firm, Elizabeth Poliner had no notion of becoming a prize-winning author. But only a few years into her practice, she realized law wasn't her passion. She enrolled in an MFA program at American University, while continuing to work as a lawyer part-time to finance her studies.
Now an associate professor of creative writing at Hollins University in Roanoke, Virginia, the poet and novelist can add "award-winning" to her resume.
Poliner is the winner of the 2017 Janet Heidinger Kafka Prize for her novel As Close to Us as Breathing (Little, Brown & Co., 2016). She will be on campus on Wednesday, November 1st for the awards ceremony and a reading, followed by refreshments and a book signing.
The prize—awarded annually by the University of Rochester's Susan B. Anthony Institute for Gender, Sexuality, and Women's Studies and the Department of English—recognizes American women on the precipice of promising writing careers. It was created in 1976 to honor its namesake, a young editor who was killed in a car accident just as her career was blossoming. Previous winners include the Nobel Prize- and Pulitzer Prize-winning American novelist Toni Morrison, for Song of Solomon, and PEN/Faulkner Award-winning author Ann Patchett, for Taft.
"I'm thrilled to have been selected," says Poliner.
A multigenerational saga that extends beyond the confines of its small locale, As Close to Us as Breathing chronicles the yearly summer pilgrimage of one family to their seaside cottage in Woodmont, Connecticut. It balances the melancholy in a post-World War II Jewish community with the optimistic themes of a beach novel: summer, young love, and baseball. Yet, the characters  struggle to do what is expected of them, rather than what they desire.
The prize committee consisting of University of Rochester faculty members Beth Jörgensen, (Professor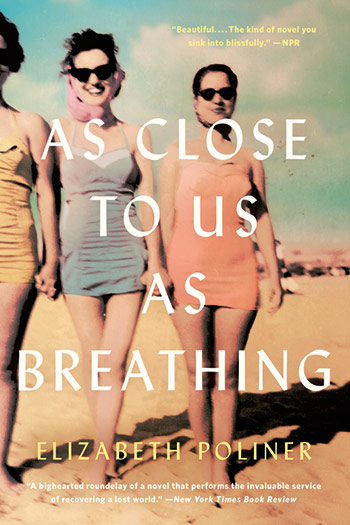 of Spanish), Katherine Mannheimer, (Associate Professor of English), and Jason Peck (Visiting Assistant Professor of German), calls the novel "nothing short of epic." Meanwhile, National Public Radio calls it "a marvel of artful storytelling," and the New York Times Book Review praises Poliner for the "warm, particularized light in which she dresses her many characters."
Poliner's impressive cast of characters—four children, three sisters, two husbands, and more—presented her with a creative challenge. "It took a long time to imagine their lives fully," says Poliner, who took six years to write the book, but conceived of the idea ten years before that.
Although the author doesn't play favorites—"even the flawed characters are near and dear to my heart"—the author concedes that she most enjoyed writing Bec Syrkin, a savvy seamstress. "I identified with the fact that she found her way into her work and had a knack for making things. I always admired her," says Poliner.
Another challenge was the narration style. The story is relayed in the first person through adult Molly who tells the story in  hindsight, often looking back on the summer of 1948 when she was twelve years old.
"It took some time and a little bit of technical practice," Poliner admits, who teaches MFA students.
The setting of Woodmont, Connecticut, was the site of Poliner's own childhood summers, two weeks each year, at her grandmother's cottage. But that's where the similarities end.
"A lot of people want to know if I've written about my life—who's who, what character stems from what person in my life—but it's really largely imagined," says Poliner. She muses that some readers may question the integrity of fiction because they have lost sight of the power of imagination.
Ultimately, literature is where we learn about humanity, she adds, and how to think critically about it. "Reading literature is a wonderful way to broaden oneself by experiencing a new world presented in a book," says Poliner.
The Kafka Prize ceremony, reading, book-signing, and reception will take place on Wednesday, November 1st at 6:00pm in the Hawkins-Carlson Room of the Rush Rhees Library. The event is free and open to the public.
---
Susan Ziegler, October 2017