Hyekyun Rhee honored with research award
Hyekyun Rhee Honored with NY Distinguished Nurse Researcher Award
Hyekyun Rhee, Ph.D., R.N., P.N.P., F.A.A.N., whose work with teens with asthma has spurred innovative approaches to help them better manage their condition, has been selected to receive the 2017 Distinguished Nurse Researcher Award from the Foundation of New York State Nurses.
She will receive the honor at the American Nurses Association – New York annual convention in Albany Sept. 15.
"I am extremely grateful for the strong support of my colleagues and mentors at the School of Nursing who initiated this nomination," said Rhee, a professor and Endowed Chair of Nursing Science. "I am thrilled that they value my contributions, and I will continue to work hard to make them proud.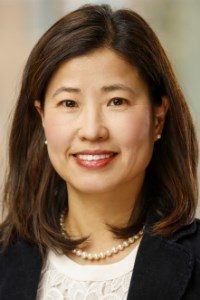 Rhee joins a list of nearly a dozen School of Nursing faculty members recognized with the honor since it was first awarded in 1980. Past winners include Bethel Powers, Kathleen King, Thelma Wells, Madeline Schmitt, and Jean Johnson, and more.
The award honors nurse researchers who conduct studies that contribute to the advancement of nursing and patient care. Selection is based on the quality of research conducted, contributions to the science and art of nursing and health care, evidence of leadership in nursing research, and dissemination of that research to the scientific and clinical communities.
Rhee's line of research has focused on using technology and peer dynamics to improve asthma outcomes in adolescents. She has helped to develop an award-winning wearable device that records and analyzes symptom patterns and triggers, leading to better condition self-management. Currently, she is conducting a clinical trial evaluating a peer-led asthma self-management program for inner-city teens in Buffalo, Baltimore, and Memphis. The Peer-led Asthma Self-Management for Adolescents (PLASMA) program examines the effects of the training program in improving self-management and overall outcomes of asthma in teens. She has also been developing a clinical study of an interactive text messaging system to help teens and their parents with daily asthma management and facilitate parent-teen partnerships through information sharing in a timely manner.
Rhee joined the faculty in 2007. She earned her bachelor's degree in nursing from the Catholic University in Seoul, South Korea; her master's degree from the State University of New York at Buffalo; and her doctorate from the University of North Carolina, Chapel Hill.
---
August 2017