Faculty Spotlight: Adam Frank
Astrophysicist Adam Frank is a leading expert on the final stages of evolution for stars like the sun, and his computational research group at the University of Rochester has developed advanced supercomputer tools for studying how stars form and how they die.
A self-described "evangelist of science," Frank is deeply committed to showing others the beauty and power of science, and exploring the proper context of science in culture. He is the author of several acclaimed books and is a frequent contributor to NPR's blog, 13.7: 13.7: Cosmos & Culture.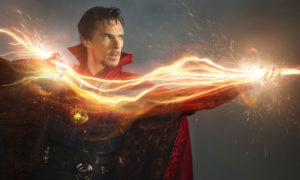 Recently, Frank has explored some fascinating questions with NPR, including "can you power your home with a bicycle?" For science buffs, energy enthusiasts, and bicyclists alike, you'll find some interesting insights here.
He has a new claim to fame, too, as the physics and philosophy adviser on Marvel's newest movie, Doctor Strange.
Frank is a professor within the Department of Physics and Astronomy. He also holds a joint appointment at the Laboratory for Laser Energetics, which is a Department of Energy fusion lab based out of the University of Rochester. Exceptional faculty like Frank give birth to ideas that change the world. They educate, and they inspire. They model the wonder of inquiry and the fascination of discovery.
Going Out of this World
Addressing global problems of considerable scope and complexity requires preeminent minds and innovative thinkers. Supporting them is fundamental to our mission to learn, discover, heal, create—and make the world ever better. To learn more about how you can support Frank, his work, and others like him, contact Ashley Smith, Senior Director of Advancement for the School of Arts & Sciences, for giving opportunities.
---
—Kristine Thompson, May 2017