Alumni Spotlight: Richard Leibner '59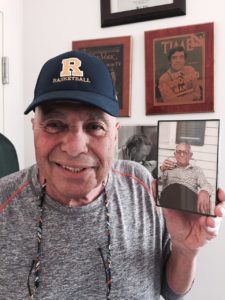 After graduating from the University and getting his MBA at New York University, Richard Leibner '59 went to work for his father, Sol, an accountant in New York City. One of his clients was Nathan Bienstock. Nate ran a small personal management and insurance company and worked with some prominent writers and journalists, including John Steinbeck, who also retained Sol as his accountant.
In 1964, Bienstock invited Sol to join his business and handle the accounting. Richard, a self-proclaimed news junkie, soon went to work with them and helped manage the affairs of such news personalities as Walter Cronkite and Charles Collingswood.
In January of 1965, Sol, Nate, and Richard formed N.S. Bienstock Inc., which grew to become one of the world's largest talent agencies for news personalities and reality programming. Its client roster has included Mike Wallace, Dan Rather, Chris Matthews, Anderson Cooper, Robin Roberts, Bill O'Reilly, and many others.
In 2014, United Talent Agency acquired N.S. Bienstock. As part of the arrangement, N.S. Bienstock retained its name, corporate identity, and New York offices. Leibner and his wife and business partner, Carole Cooper, would remain as co-presidents and continue to manage its day-to-day operations.
ALWAYS A CHEERLEADER
Leibner has always been a cheerleader for Rochester and Rochester athletics. In 1994, he established the Eleanor and Sol Leibner Scholarship, which is designated for a deserving incoming freshman student of diversity from Brooklyn. He and Cooper endowed the Leibner Cooper Family Foundation Scholarship as well, designated for full-time students studying business.
In 2011, Leibner and his wife also made a generous gift to establish the Richard A. Leibner and Carole Cooper Leibner Room inside the Robert B. Goergen Athletic Center. In 2014, the University presented Leibner with the James S. Armstrong Service Award, which is awarded to an alumnus in recognition of outstanding and extraordinary service, leadership, loyalty, and commitment to the University. Most recently, he made a gift that significantly upgraded the equipment in the Larry and Cindy Bloch Fitness Center.
Leibner's passion for sports continues to this day. He coaches first base and is the statistician for the Fringe, a Fire Island softball team. His passion for the University of Rochester also continues. "I have such great affection for my alma mater," he adds, "when I see someone on the streets of New York City or anywhere wearing the University's distinctive 'R,' I'll yell out 'Meliora,' and I'll always get a thumbs up."
DID YOU KNOW?
What many people don't know is that Nathan Bienstock is Joel Seligman's grandfather. "I first met Joel when he was about 11 or 12," recalls Leibner. "I even have a picture in my office that Joel took when he was a boy, showing his grandfather sipping his favorite drink—a glass of vodka with plenty of ice. A few decades later, in 2005, I remember Bob Witmer called me. Bob, a longtime University trustee and close friend of mine, asked if I had any idea who the next University of Rochester president was going to be. I told him 'no,' and when he said it was going to be Joel, my jaw just dropped. Joel's leadership has drawn me even closer to this University."
Get in the Game
Athletics enrich the overall academic experience at Rochester. Those who engage in a varsity, club, or intramural sport learn lessons on the field that will help them in life, from leadership to teamwork to time management. Stellar facilities and programs attract the best students and coaches. Please contact Lisa Hall, Senior Director of Advancement for the College, for information on how you can support Athletics here.
This is an excerpt from the Fall 2016 Friends of Rochester Athletics newsletter. Read the full story here.
–Kristine Thompson, March 2017