Addressing climate change
Faculty Researcher: John Kessler
Just like 2014 before it, 2015 was the hottest year on record. Polar ice shields are melting, the sea is rising, and extreme weather events are becoming more and more common.
Today, the amount of carbon dioxide on our planet is actually higher than at any time in the last 650,000 years. And the Earth's average temperature is increasing faster than ever before. Issues will intensify in the coming decades if we don't do something about it, now.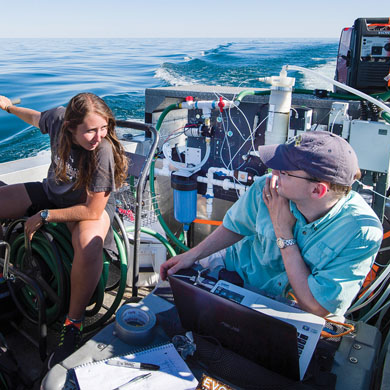 What are we doing about this, here at the University of Rochester?
Meet John Kessler, associate professor in Earth and environmental sciences. A few years back, Kessler conducted headline-grabbing research on the aftereffects of the Deep Water Horizon oil spill, when 210,000 million gallons of oil gushed into the Gulf of Mexico for 87 days.
Kessler is a methane expert—methane is a potent greenhouse gas and a much more efficient "heat trapper" than even carbon dioxide. According to Kessler, methane contributes to the warming in the atmosphere that we are experiencing right now.
So, what's Kessler doing right now?
Knowing that freshwater bodies are the largest sources of methane released into the atmosphere and that there is little research done on this, he's arranged a series of "cruises" on the Great Lakes.
He started on Lake Ontario in the summer of 2016, with daylong excursions to conduct experiments. He and his team of a half dozen undergraduates are exploring questions that will help us, ultimately, better understand climate change. So far, they've found much higher amounts of methane than they ever expected.
Students are learning much more than they ever expected, too. They are learning about the research process; for instance, how to secure funding, plan trips, organize research teams, and so much more.
Raise the Anchor on Research
Efforts like this need funding. Kessler began this project with a $10,000 Pump Primer seed grant, which is an intramural AS&E funding program to help researchers build their cases for extramural funding.
The results from Kessler's first studies helped him land a National Science Foundation grant and get a much needed "bigger boat" for future cruises. But, federal support for research is shrinking and we need to look to other sources to help support the good work of Kessler and his team.
Learn more about Kessler's work in the November/December issue of Rochester Review or contact Ashley Smith, Senior Director of Advancement for the School of Arts & Sciences for giving opportunities.
---
—Kristine Thompson, May 2017