Preserving cultural history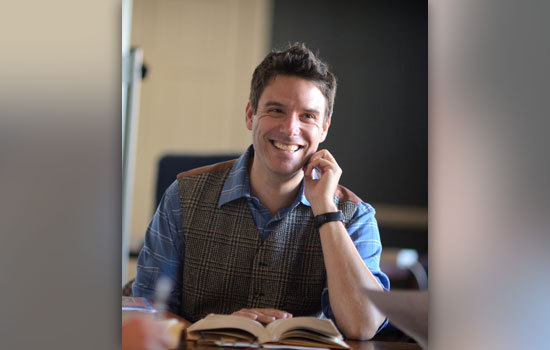 From damage caused by the Nazis and by Isis and by the perils of time and weather, many artifacts are being destroyed and lost forever. The words, the music, and the art of these cultures—really, their historical legacies—are at risk.
This is serious business. To quote an article in a recent issue of The Smithsonian, "The deliberate destruction of antiquities by ISIS and others in the birthplace of human civilization is cultural genocide."
So, what are we doing about preserving cultural history here at the University of Rochester?
Meet Gregory Heyworth, associate professor of English and a new interdisciplinary hire affiliated with the Goergen Institute for Data Science.
He also directs the Lazarus Project, a not-for-profit initiative to restore damaged and illegible cultural heritage objects, especially manuscripts and maps, using spectral imaging technology. He has helped recover numerous important objects including the Vercelli Book and the 1491 Martellus Map.
Think of him as the University of Rochester's version of Indiana Jones. He's a professor, an explorer, a medievalist, a technologist, and a data scientist. For instance, not too long ago National Geographic whisked him off to a Spanish cave deep inside a cork forestto explore some Bronze Age artifacts that had never been looked at before. Ever.
Heyworth is also working on a project to research and save Baroque manuscripts that were nearly destroyed in WWII Germany, specifically in during the devastating bombings of Dresden.
His dream is to restore that music and take it from manuscript to performance. And now, at Rochester, there are the tools and people who could him do just that—those at Eastman School of Music, in optics and material science, in data science, and at the River Campus Libraries.
Heyworth is new here but Rochester had been on his radar for a while. Because of the work he does and the way he teaches, he needs a place like Rochester, a place that, as he says, is "radically interdisciplinary." Where else could he do the kind of project he is undertaking with the lost music?
Heyworth embraces experiential learning with his students, which of course is a mantra here. He needs to, longs to, and wants to work with a variety of students, from those interested in the humanities to those who are scientists by nature.
He strives to give them opportunities to do real research and even publish. He wants them all to experience that Eureka moment he has seen in young people before, when they shift from being students to being scholars.
In terms of impact, Heyworth is affecting a lot of things—he is preserving history, he is bringing the past to life, and he is drawing from the past to inform the future. Along the way, he is bringing his unique approach—and passion—to his students, who will undoubtedly be inspired, educated, and changed by him.
How You Can Help
Additional funding for Heyworth's research will help him do more of the great work he is already doing. By supporting Heyworth, you can truly have a hand in preserving history. Please contact Ashley Smith, senior director of advancement for the School of Arts & Sciences, for specific giving opportunities.
---
—Kristine Thompson, May 2017