Addisu Mesfin: Caring for patients with spine tumors
Orthopaedic spine surgeon Addisu Mesfin, MD, is passionate about caring for patients with spine tumors—as both clinician and researcher interested in clinical outcomes. To him a patient is not "a person with back pain." Instead, he tells residents, treat patients as you would "your mom, your grandmother, your brother."
When he talks about being an orthopaedic spine surgeon Addisu Mesfin stresses the importance of building relationships with patients, the value of cutting-edge research to help them, and the impact of having—and being—a good mentor. He joined the University of Rochester in 2012, he says, because he found like-minded colleagues in the Medical Center's spine division.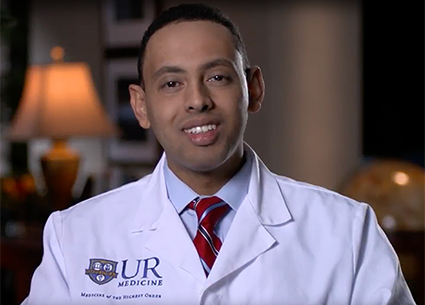 Today, Mesfin is regarded as a caring surgeon, an accomplished researcher, and a person whose commitment to mentoring is especially strong. He does not view a patient as "a person with back pain" but tells his residents to treat patients "as you would your mom, your grandmother, your brother." His focus on research is evident in the more than 85 articles he's published and over 150 national and international presentations he's given. His mentoring activities range from helping the University's undergraduates pursue research to participating in an American Academy of Orthopaedic Surgeons' program to expose women and under-represented minorities to the specialty.
Two of Mesfin's special interests are managing spine tumors and spinal cord injuries. Recently his team published research demonstrating that the use of an antibiotic powder during spine tumor surgery can dramatically decrease wound infections. As a member of a select international spine tumor group, he's been able to push use of the antibiotic and show it works.
Mesfin, who is married to family physician Stacy Hom, the father of two young children, and an active member of the Army Reserves who has served in Afghanistan, came to the U.S. as an immigrant. He left his native Ethiopia at age 11, after his father died, to live with his mother in Baltimore. He notes—as he names the many people who inspired him to pursue orthopaedics and ultimately become a spine surgeon—that "my own story is a story of mentorship and mentorship and mentorship."
Make an Impact
Musculoskeletal disorders have a profound effect on people's physical function, overall health, and quality of life. You can help people around the world live their lives in motion. To learn how, please contact Dianne Moll, Director of URMC Advancement, at (585) 273-5506.