Pursuing their Passions: Isaiah Pule
Wilson Day 2017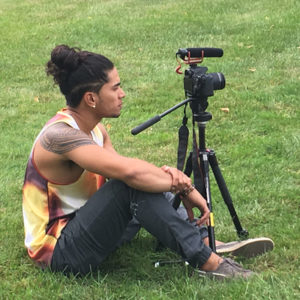 Isaiah Pule '18
Majors: Film and Media Studies, Business
Minor: Computer Science
Hometown: Waianae, Hawaii
Alan and Jane Handler Scholarship recipient
Isaiah Pule '18 is a first-generation college student who loves to tell stories. And, as a film and media studies major, he is learning how to do just that. Add in the knowledge and skills he is gaining in business and computer science and it is clear he is well poised for the future.
Pule's days are busy. In addition to his studies, he also plays on the College's rugby team, is an intern with the University of Rochester's Advancement Communications office, and is part of the Sigma Chi Fraternity, where he serves as the group's philanthropy chair and heads up community service activities, including an annual trip to the Dominican Republic.
That's not all. In the summer of 2017, Pule made one of his dreams come true. He sailed for a little over a week with the Polynesian Voyaging Society, a group whose voyaging canoes have been traveling the world for several years using only ancient wayfinding practices. Pule joined the crew as they sailed through the islands in Hawaii, from Kauai to Oahu.
"I sailed on both of the group's canoes, the Hokule'a and the Hikianalia, to help spread a message of sustainability and Malama Honua, which means to care for our Mother Earth," says Pule. "Around the world we carried these messages, especially to our younger generations, who will someday lead this world."
Pule's plans for after graduation? He hopes to teach back in native Hawaii and work part-time in the filming industry as he prepares to enter an MBA program. In the meantime as a University intern, Pule produced the above video on Wilson Day, an annual day of service for new and incoming undergraduate students.
Make Dreams Happen
Learn how you can help aspiring students like Isaiah Pule make their educational dreams come true by contacting Lisa Hall, executive director of College Advancement, at (585) 273-3619, or Ashley Smith, senior director of School of Arts & Sciences Advancement, at (585) 276-6561.
---
—Kristine Thompson, September 2017